In the field of dance, the Ministry of Culture develops regulations for initial and higher education, supports creation and develops dissemination networks. It also supports the structuring of professions and employment and contributes to the development of arts and cultural education and amateur practices.
Nearly 600 students
in schools of higher education Culture are destined for the profession of dancer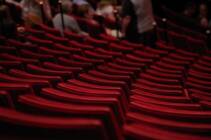 24 dance festivals
are listed in 2018 on the national territory
EUR 8.7 million in aid
have been allocated by the Ministry of Culture to 267 choreographic companies in 2018.
Although the State's interest in the field of dance dates back to Louis XIV, since the 1960s the Ministry of Culture has not stopped accompanying new generations of artists. From the «National Choreographic Centre» label to the national choreographic development centres, including the Théâtre national de Chaillot, the network of national stages, the stages with a convention for dance, but also the festivals dedicated to the choreographic creation for independent companies, public policy is today based on a set of devices that consolidate the vectors of the meeting of dance works with the public.
By setting up procedures for classifying conservatories, but also by creating a state diploma of dance teacher that attests to proven pedagogical skills, the Ministry of Culture has profoundly transformed the professional environment and contributed to a maturation of reflection on the professions of dance. The 1989 Law on the Teaching of Dance was one of the main levers of this policy.
Since the 1980s, the Ministry of Culture has taken into account the special relationship that dance has with the image. The creation of a Cinémathèque de la danse (now part of the Centre national de la danse) marked the start of an action that continues in the era of digital technologies, via devices such as DICREAM and the multimedia platform Numéridanse. The attention of the Ministry of Culture is also focused on publishing books on dance, with the establishment in 1994 of the Librairie de la danse within the Centre national du livre. Finally, the choreographic heritage is supported by programs such as "Amateur Dance and Repertoire" which allows dance lovers of all ages to approach excerpts from the repertoire with the help of professionals.
The 2022 session of the Dance Technical Aptitude Test is now open. Deadline for registration: 4 February 2022

The 2022 session of the Dance Technical Aptitude Test is now open. Deadline for registration: 4 February 2022

The Kalypso festival, created by the choreographer Mourad Merzouki, beats the Île-de-France to the rhythm of hip-hop dance from November 5 to December 31, 2021. A festive and eclectic program is presented to the public to celebrate...

The Kalypso festival, created by the choreographer Mourad Merzouki, beats the Île-de-France to the rhythm of hip-hop dance from November 5 to December 31, 2021. A festive and eclectic program is presented to the public to celebrate...

Application deadline: Saturday, December 11, 2021

Application deadline: Saturday, December 11, 2021
Amateur dance and repertoire is an accompaniment program of amateur practice beyond the dance course and the technical learning phase....

102

Remaining days

In progress

Deadline - March 08, 2022

As part of the Heritage Policy and Dance Research, the National Dance Centre has been implementing an aid program since 2010 called...

102

Remaining days

In progress

Deadline - March 08, 2022